Armata's
Yacht-Sale.com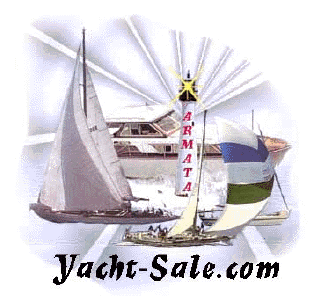 Enter our Yachts and Boats for sale Brokerage section

Welcome to our online yacht brokerage and boat sales platform.
Here you will find Yachts and boats for sale and wanted.
We offer many peripheral services including maritime and yacht Insurance, you may now apply for a no obligation quote online. We are the agents for Pantaenius Marine Insurance who we recommend highly, as they are there when you need them. We also provide guardianage services, registrations, spare parts and diesel engines, bespoke carpenters and shipwrights. We have a free classifieds section for used sails for sale and wanted which is very popular with both buyers and sellers. Other free classifieds include Yacht crew lists for sailing yachts and motor boats and skippered yacht delivery.

Find our highly successful brokerage yacht sales advertising package.
We are the agents for the Formula boats range of speedboats and cruising boats and can deliver worldwide.
Deliveries can now be undertaken as freight on board ship, which we feel is both cost effective and possibly a safer option.
We have Yacht Charter businesses for sale throughout the world, charters both in the Mediterranean including Budget sailing charter holidays and Yacht Charters in Greece as well as worldwide through our sister sites. For Cyprus based bareboat and skippered charter it is Cyprusyachts.com and for other locations including the Antarctic see Sailingcharter.org
If you are looking for shipping related subjects or ships brokers
then please look at our sister site at
Ships-for-sale.com
At Yacht Sale we offer classic yachts as well as the more modern fibreglass pop outs. If you have a classic wooden yacht for sale, we are eager to hear from you. In fact if you have any honestly described sailing or motor vessels for sale we would like to hear about it. Take a look at our successful and reasonable brokerage packages here.
Click on the link if you wish to do a currency conversion on any of the prices quoted within to any currency at all.

Contact Information for Armata. Tel: + 357 24 665408
Fax: + 357 24 627489

Postal Address: PO Box 40218 ,Larnaca, Cyprus.

,,,,,,,,,,,,,,,,,,,,,,,,,,,,,,,,,,,
info AT yacht-sale.com
Copyright©Yacht-sale.com 1998-2020

Yacht and boat sales worldwide with Armata's Yacht Sale.
[ Contact Us ] [ Crew List ] [ Delivery Classifieds ] [ Charter Businesses ] [ Insurance Quotes ] [ Yacht Delivery ] [ Professional Crew ] [ Sailing Links ] [ Sails for Sale & Wanted ] [ Terms and Conditions ] [ Sailboats ] [ Yachts and Boats for Sale ] [ Yachts Wanted ] [ Sold Archive ] [ Currency Conversion ] [ Awards ] [ Feedback ] [ Shipwright ] [ Formula Boats - New motorboats and speedboats. ]