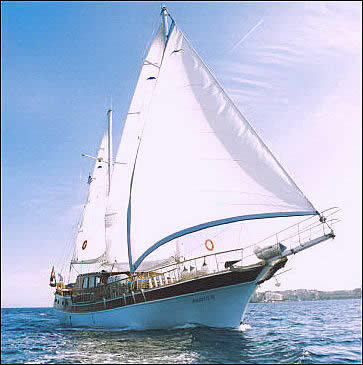 Comfortable five cabins reserved for passengers
Overall length : 65.6 ft. (20 meters)
Max. Capacity : 12 persons
- 2 cabins have one double bed
- 2 cabins have one double bed below and a single bed above
- 1 cabin has single bunk beds
Three of the cabins have private toilet and shower while the other two share a toilet and shower. A group of 8 to 10 people is ideal (12 maximum). Soft side baggage is preferable.
The bow has 11 deckchairs for tanning or relaxing. The stern has a large removable table. The stern can also be set up for cocktails, dancing or karaoke. An interior den is also at your disposal.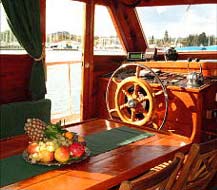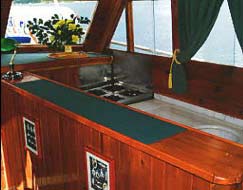 This 40-ton wooden yacht was built in 1996 in the Southeast Aegean Sea. It was registered as a professional tourist vessel under the number NX418. Security tests mandated by the maritime authorities authorize a daytime capacity of 49 persons. It is more than 20 meters long and 5,45 meters wide, allowing ample living space for a small group of ten or so passengers of all ages. Suitable for long distances, Anatolie and its skipper have sailed the entire Mediterranean and as far as the Canary Islands in the Atlantic.