Yachts for sale
20' 6" Dutch built Day Sailor

LOA 20'.6"
Centre board weight 95k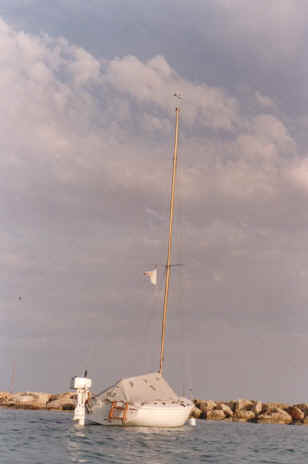 CONSTRUCTION Hull material: G.R.P.

ENGINE Johnson 4 hp outboard.

SAILS Mainsail & Jib .

GROUND TACKLE 1 anchor

DESCRIPTION This interesting boat comes with 4 wheeled English made trolley and cover.
We do not know her year of build but she was sailed from Holland to Cyprus is about 1985. She has been extensively renovated over the years.



Click picture to enlarge.

Price 5250 Euros

Cyprus Duty paid
To enquire further please Contact
us here

[ Harbour ] [ Contact Us ] [ Crew List ] [ Delivery Classifieds ] [ Charter Businesses ] [ Insurance Quotes ] [ Yacht Delivery ] [ Professional Crew ] [ Sailing Links ] [ Sails for Sale & Wanted ] [ Terms and Conditions ] [ Sailboats ] [ Yachts and Boats for Sale ] [ Yachts Wanted ] [ Sold Archive ] [ Currency Conversion ] [ Awards ] [ Feedback ] [ Shipwright ] [ Formula Boats - New motorboats and speedboats. ]